Service Trip Locations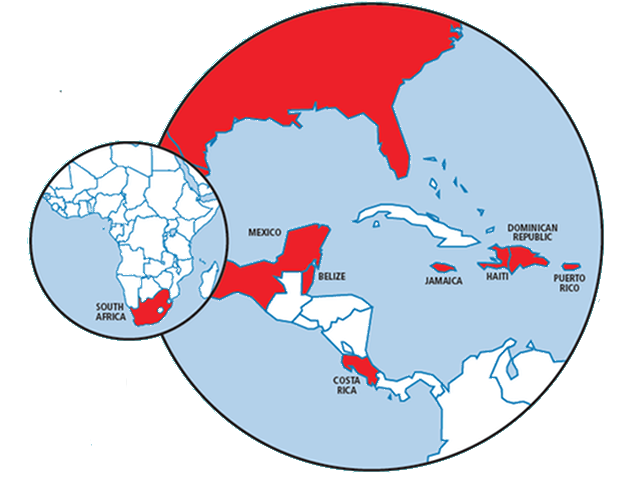 This English-speaking country in Central America is the perfect location for a first time international service team. The combination of service needs, warm and open people, and diverse history will provide ample opportunity to see unity built throughout your team.
Costa Rica is a country rich in natural wonders and biodiversity. The local communities are quite active and many go on missions to indigenous people groups. Whether on the coast or in the mountains, your service team will have the maximum impact while partnering with the local community as you serve in this warm and welcoming country.
The Dominican Republic may be considered the top Caribbean vacation destination, but there is so much more to this beautiful country. Explore the real Dominican Republic as you partner with local communities serving small mountain coffee towns, fishing villages, and vast urban cities. Take part in a culture that loves its baseball, cherishes its history, and welcomes its guests like no other.
This Caribbean country known for its vast poverty and recent devastating earthquake is perfect for the experience service team looking to take the next step.
When people think of Jamaica they often think of resorts, beaches, fun excursions, and cruises. Your Jamaica service trip will take you beyond the tourist coverings to experience the real Jamaica.

You and your team will discover the open and friendly culture of this beautiful island nation and see firsthand that beyond the beaches, hotels and tourism, life in Jamaica is not easy for the typical family.

Whether your passion is for urban or rural service projects, WeServe will partner you with a local service team. You will get to know the local people and community and be there for them as you serve them in their community.
Serving in Mexico will be a life-changing experience for your group. Whether you are serving in the state of Sonora, or the Yucatan Peninsula, the welcoming and hospitable community you serve will provide the perfect platform for engaging with the community and culture. Your team can have a tremendous impact on one of the many small communities that are in need of service assistance
Puerto Rico is an excellent location for first time service groups. Puerto Rico is a US territory, therefore no passport is required.
The English-speaking country of South Africa provides a perfect entry point into service work on the African continent. The mix of the beautiful landscape, rich history, and diverse cultures provides an excellent setting for your service trip. Your 10-day service trip in South Africa will allow you to make a lasting impact on the local communities and experience the unique African culture and recreation.
Consider staying stateside while taking part in a unique domestic service trip in the USA. Your group will have the opportunity to spend a week serving alongside an international group and community in Miami, Tucson, or Chicago. This trip will give you a taste of international culture and could act as a catalyst for future international trips.